APBM 2021 is going to be held in Assos, also known as Behramkale or for short Behram, is a small historically rich town in the Ayvacık district of the Çanakkale Province, Turkey. During Pliny the Elder's time (1st century CE), the city also bore the name Apollonia (Ἀπολλωνία).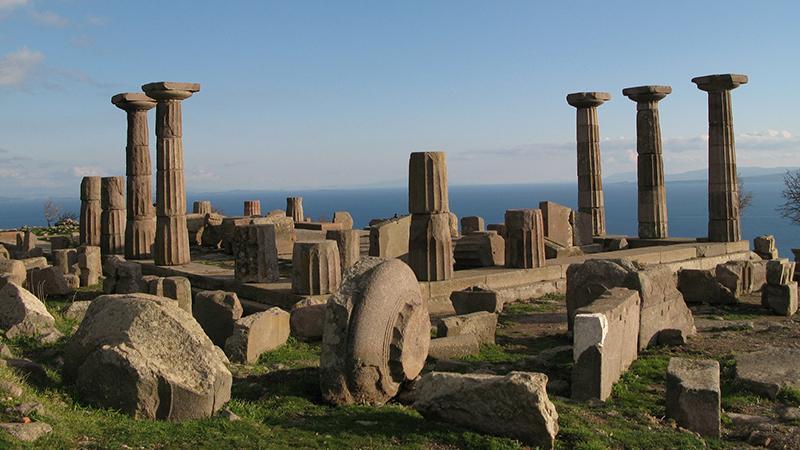 After leaving the Platonic Academy in Athens, Aristotle went to Assos, where he was welcomed by King Hermias, and opened an Academy in this city.
In the Academy of Assos, Aristotle became a chief to a group of philosophers, and together with them, he made innovative observations on zoology and biology.
There is a modern statue of Aristotle at the town entrance.
Today, Assos is an Aegean-coast seaside retreat amid ancient ruins. Since 2017 it is inscribed in the Tentative list of World Heritage Sites in Turkey.
Though the town is officially named Behramkale, most people still call it by its ancient name of Assos.
Assos is located on the coast of the Adramyttian Gulf (Turkish: Edremit Körfezi).
Much of the surrounding area is visible from the ancient Temple of Athena, built on top of a trachyte crag.
Assos had the only good harbour on the 80 kilometres (50 mi) of the north coast of the Adramyttian Gulf. This made Assos a key shipping station through the Troad.
Temple of Athena in Assos, overlooking the Aegean Sea.
The ancient Theatre of Assos overlooking the Aegean Sea, with the nearby island of Lesbos on the horizon, at right.
Many of the old buildings of Assos are in ruins today, but Behramkale (the city's modern name) is still active.
There is a small pebbly beach. There are boat tours and tours of the hamlet itself.
The participants of APBM 2021 will have a chance to visit Assos, its historical places, see the merge of the ancient Greek heritage and modern life style of Turkey.
It will be also a brilliant possibility to extend the summer time and enjoy the time at the coast of Aegean Sea.
APBM 2021 Hotels
The participants of APBM 2021 are kindly welcome by the best hotel group in the area:
Assos Barbarossa Hotel
Zeytinhan Hotel
Dionysos Hotel